There's a First Time for Everything
A look into my first trip to Portland
I've entered the phase of my life called, There's a first time for everything.
Most of my 2019 has been filled with endings and new beginnings. The seed of this new beginning was planted back on July 6, 2018, at 9:22 AM.
That was the day I met Nate Frazier, Founder of Swell on Twitter. Nate, @nfrazier, is one of the dopest humans I know. Through him, I got connected to so many awesome people and their amazing work in and beyond Portland.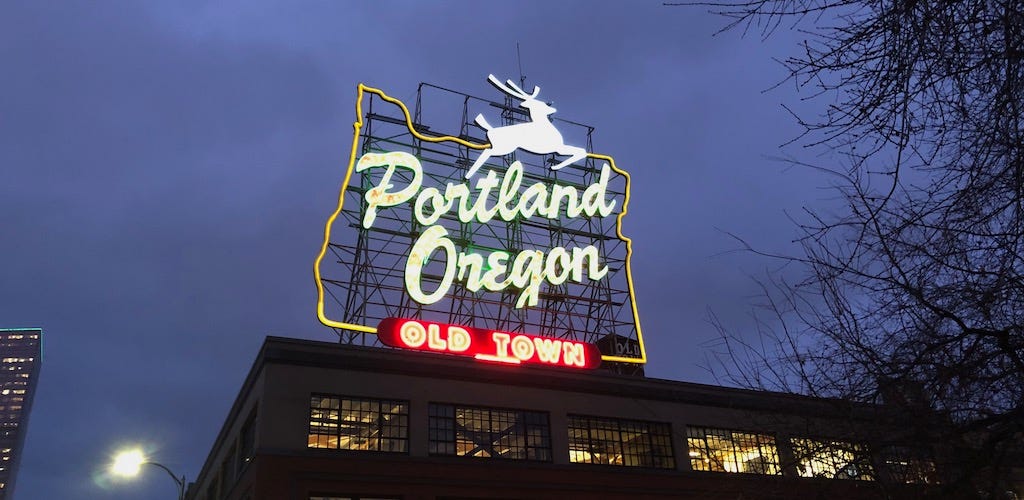 I want to share a look into my first experience in Portland aka PDX from November 15-27, 2019. These two weeks were the result of over a year of meeting and getting to know and trust people on Twitter. Instead of sharing while in the moment, I wanted to be as present and have time to let all the feeling roll through me.
That's why I'm sharing my story in this post, and why I want to use my platform to celebrate the people and businesses that made this one of the most welcoming experiences that I've ever had in any city in the world :)
---
The Tweet that Sparked it All
I posted the following on October 12, 2019, and received DMs and other messages that made what you're about possible.
Two of the key DMs I received were from Erica Escalante and Chris Cantino. I'll get to the result of those DMs, in a hot minute. But first, I had a wardrobe issue that needed attention.
---
The SewingMan to the Rescue
Thanks to changes in my schedule and being 5'7", I needed to find a local person in Portland aka PDX to hem my new jeans on Saturday morning, INSERT DAY. It was the day of the Grow Your Own Way event created and hosted by Supermaker.
More on the event later.
3:40PM, Friday, November 15, 2019
Instead of going down the Google rabbit hole, I reached out on Twitter :
And my Twitter family come through:
4:58PM, Friday, November 15, 2019
I sent a text to The Sewing Man with what I needed. He called me back in less than 2 minutes. By 5:01PM, I was booked for a Saturday morning.
9:00AM, Saturday, November 16, 2019
I arrived at The SewingMan's location, a work/live spot in Portland. Turns out that Earl, The SewingMan is one cool, multi-talented cat. In addition to his skills as a tailor, Earl is a Kingston, Jamaican-born musician, and has lived in Portland and Puerto Rico.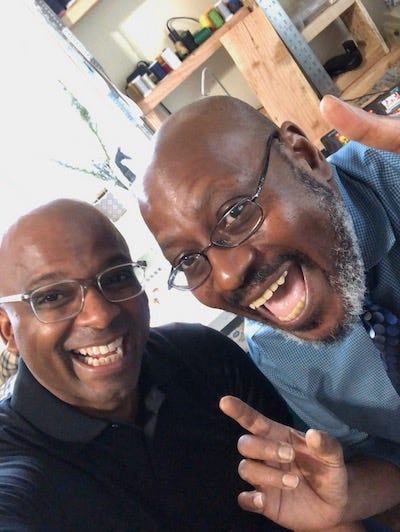 Earl doesn't advertise. So, here's my word of mouth… if you need a tailor, work with Earl, The SewingMan. All of his contact info is right here. If you're lucky, he'll share some of the amazing music that he has made over the years.
---
Grow Your Own Way
What started out as a tweet about hosting a gathering in Portland, turned into a DM that led to my first time moderating a panel. You never know who is paying attention to you and what you post. I'm not saying that you have you check yourself.
I want you to be you. All. The Time.
Some people won't like what you post, and some people will dig you. Either way be and do you.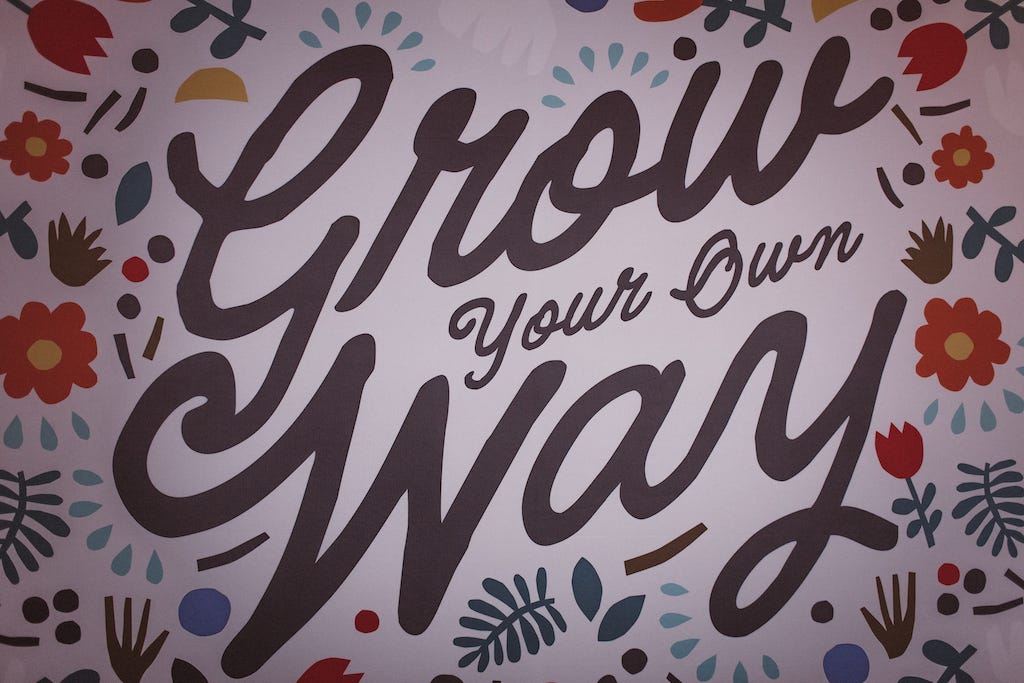 (Grow Your Own Way photos by Nicholas Peter Wilson)
I'm grateful to Jaime Schmidt and Chris Cantino and the Supermaker team for creating a space for the founders on the panels to speak their truth. This was definitely one of those times when you really needed to be there to understand the feeling and hear the gems first hand.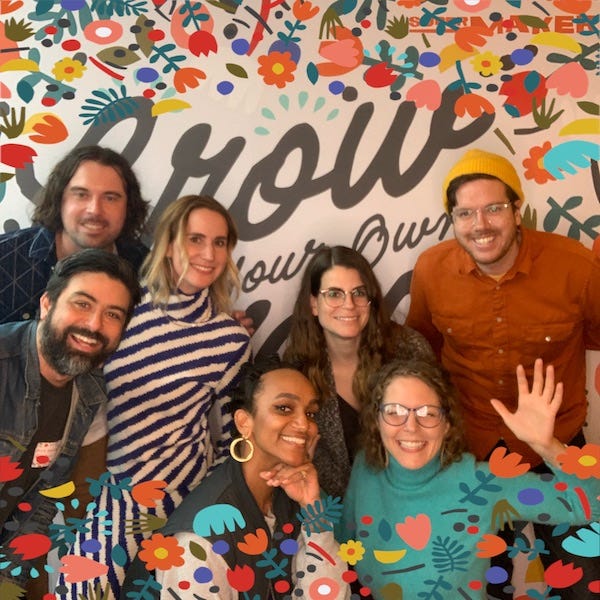 Panel: Achieving Success on Your Own Terms (l-to-r):
Jaime Schmidt (Moderator, Schmidt's Naturals, Supermaker, and Color), Jelani Memory (A Kids Book About), Lynn Le (Society Nine), Britt Howard (Portland Garment Factory), and Naj Austin (Ethel's Club).
Mental Wealth Deposit: Lynn Le shared how she sets boundaries in her life especially time for herself…one of the most important practices investments founders can make for their lives and businesses.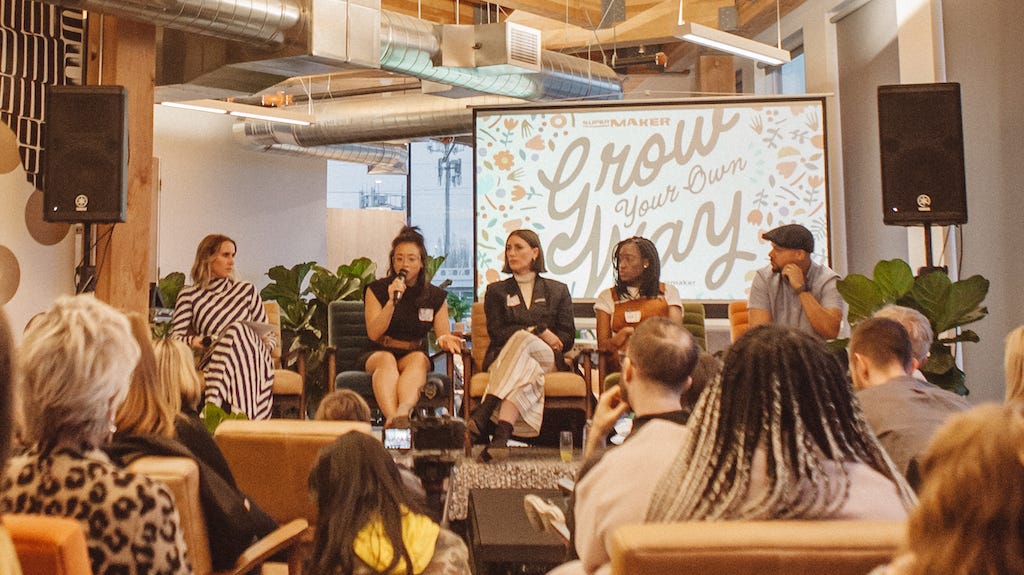 Panel: Embracing Intuition and the Power of Self (l-to-r): me, Trinity Mouzon Wofford (Golde), Emily Katz (Modern Macramé), Yvonne Perez Emerson (Make & Mary), and Anja Charbonneau (Broccoli Magazine).
Mental Wealth Deposit: The big takeaways from our panel were to do things aligned with your inner voice, it takes time to help make that voice loud, and along the way, you will be wrong…but you have time to adjust.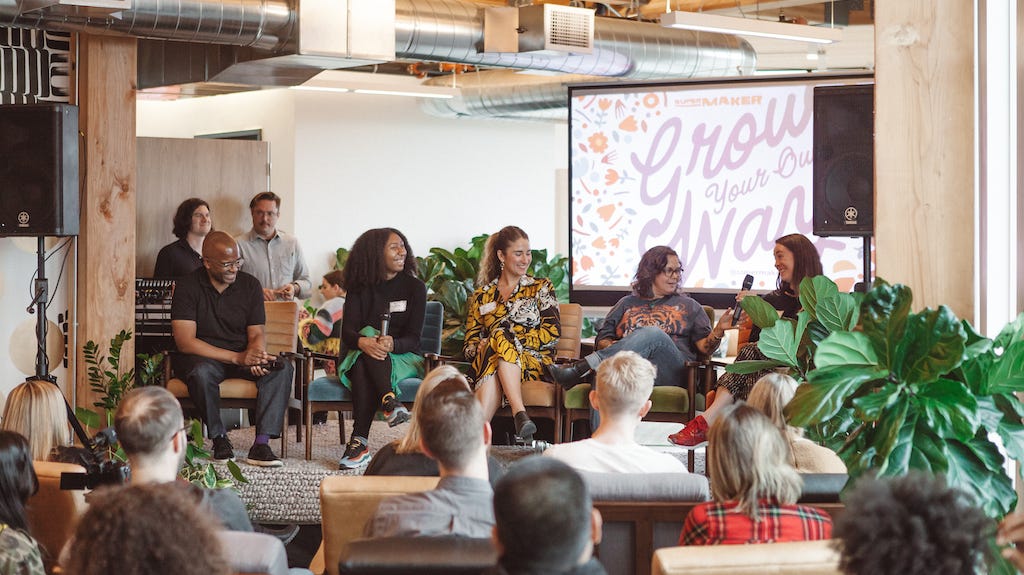 Two major highlights for me were the moments I had to chat with Jelani Memory, Co-Founder of A Kids Book, and Ethel's Club Founder & CEO, Naj Austin. Both founders recently revealed their businesses to the world…one in Portland and the other in New York…Brooklyn to be exact.
As Black man who grew up going to Bethel AME Church on Sunday mornings in the shadow of the Madam C.J. Walker Building located on Indiana Avenue in Indianapolis, I feel that Ethel's Club is a keystone to our future that builds on the cultural excellence of the Harlem Renaissance combined with the social and economic work of Civil Rights leaders in the 1950s and 1960s.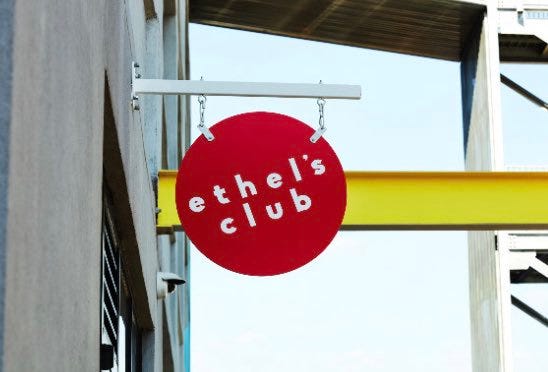 A Kids Book About is shining light on the once unspeakable topics…the ones we whispered. The format and content of the books are accessible for kids and adults. I think this ushers in a generational change that we've never seen because most of the topics have been damn near forbidden to discuss until something major has happened.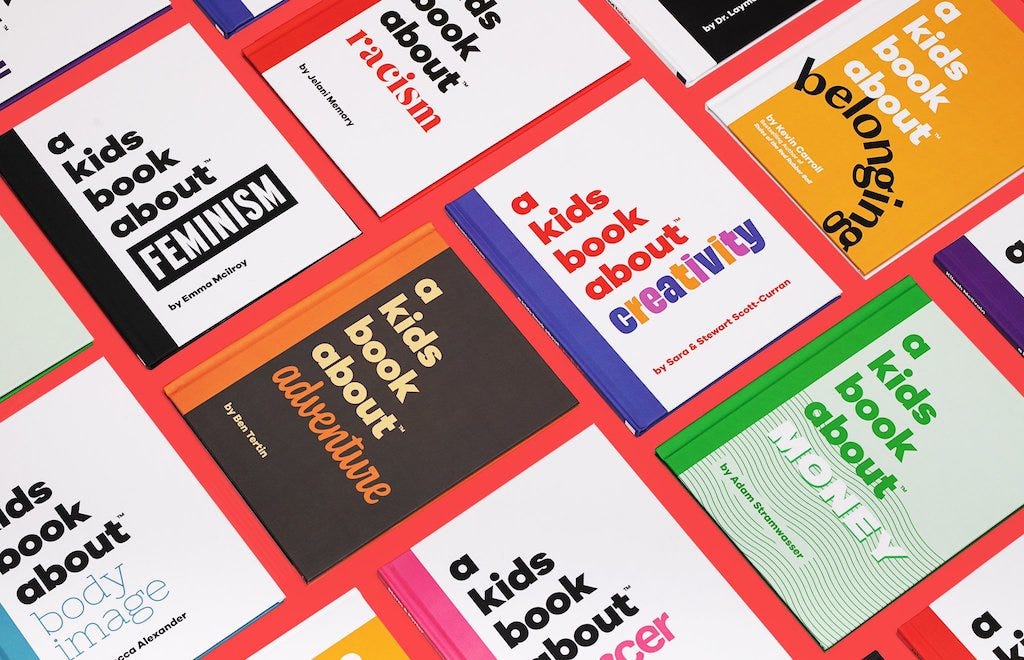 On the culinary side of things, Public Provisions, co-owned by Melaney Schmidt and Malia Myers, provided a special creation named Cleanse, a creative non-alcoholic beverage. Yup, I had more than 1 and less than 6ish of these tasty beverages :)
This event was definitely one of those times in my life when I felt like the student and a teacher from one moment to the next. What an amazing group of people and an expression of creativity!
---
More than a slice of PIE
A good part of my first week was spent working from the Portland Incubator Experiment (PIE) offices at Autodesk. Rick Turoczy has baked up something pretty special with the cohorts, community, and extended family of PIE.
Loved this view as I walked in each day.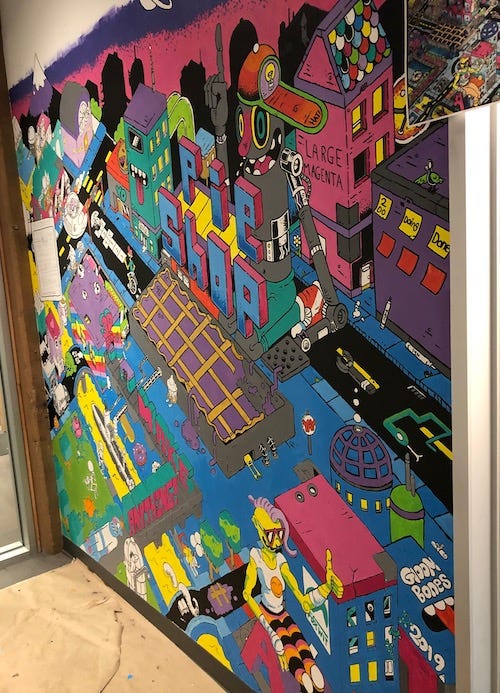 I dig the variety of businesses including:
Jennifer Johnson and Carl Hickerson, Co-Founders of Trestle. They're focused on bringing more transparency to business operations and make it easier for people to be conscious consumers.

Micah McCrary-Dennis, Co-Founder & CTO of MentorS¢hip. He and his team are combining AR, community, financial health, and mentorship to help the next generation get a leg up on their future. Thanks Micah for inviting me to the Group of Founders lunch :)

Karthy Chandra, Founder & CEO at Goalden Hour. I'm excited about the platform that she and her team are creating to help us move beyond checking a box for goal, to making space for shifting behaviors. It's totally aligned with the framework I teach startup founders when it comes to mental wealth.
This is just a sample of the awesome companies in the PIE community…a slice ;)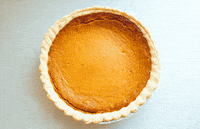 ---
A Sip of Life
One of the most insightful conversations I had during my time in Portland was with Stephen Green, an OG in PDX, which started with a latte from Deadstock Coffee followed by a tour of Pensole Academy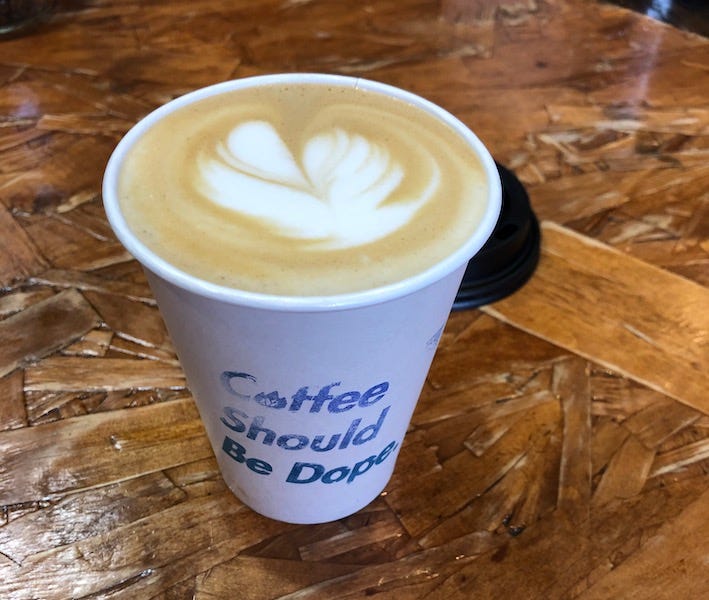 Our convo flowed from tech funding to life experiences to challenges of Black and Brown founder and the work that needs to be done, along with eliminating the b.s. It was refreshing to hear a no-B.S. action-focused take about a city.
---
A Mental Wealth Salon
Remember when I said that I got a DM from Erica Escalante, Owner of The Arrow Coffeehouse. Before the DM, she responded to my tweet about coming to Portland:
Done and done. We had a location secured for my first Founder Mental Wealth Salon.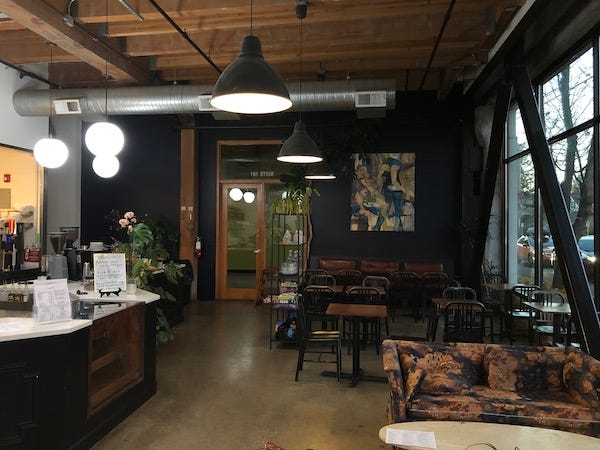 On the day of the event, I had the pleasure…thanks to Erica…of meeting with Theotis Cason, the owner of Cason's Fine Meats. He shared with us his story of life in Portland and being in business for over 35 years.
Ok, back to the event…
There were 14 people RSVP'd on Eventbrite. We ended up with 7 people including 1 person who attended thanks to seeing a post on Erica's Instagram.
Of course, we had to try these savory treats which are baked in-house…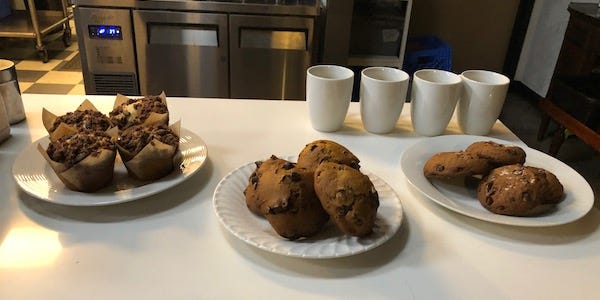 Too many gems and moments from the event to share here except this one in response to the question, "What is mental health and wealth for you?":
"Being able to say, I'm proud of my life"
My plan is to host Founder Mental Wealth Salons in 20+ cities in 2020 to complement the virtual group and 1-on-1 trainings that I offer. If this first one was an indication, I'm stoked for 2020.
---
---
Donuts and Coffee…and Tea
Without a doubt, the only way to close out this story is how I started it…with Nate. I'm grateful to call him a friend. And, not only has he been super helpful during my time here in Portland, he hosted an open house…at his family's home
and, he and Michele, his wife opened their home to me to stay until I head to the Icon Summit next week. And yes, the donuts from Coco Donuts were super good.
---
Keep the Energy Going
Two major surprises happened while I've been in experiencing Portland. While neither are located here, I think both are connected to the same energy that brought me to Portland.
First, I'll be on The Time is Now for Mental Health and Wellness in Tech panel at Icon Summit in New York on December 3rd. Icon Summit is a one-day event that builds emotional intelligence and advances the success of Black and Brown men in technology, entertainment, and entrepreneurship. Thanks Wayne Sutton for having me be part of this event.

Second, I was selected to be a Scout for the pilot cohort of the Indie.vc 2020 Scout Program. This is a super dope step and something I put out in the world earlier this month. I view being a Scout as a way to help startups get an opportunity for founder-friendly funding, and complement my work on mental wealth to support the long-term success of startup founders and their businesses. I'll be sharing more on this over the next few days and weeks.
I share this to be an example. Since August, I've focused my energy, intention, and actions on creating founder mental wealth. At the same time, I've been removing things, thoughts, and time-wasters not aligned with my focus.
Alignment first, then thought, then action.
It's true.
Worry less about the time of year, or what people and publications say you should be doing. Focus on how you can align your energy, thoughts, and actions.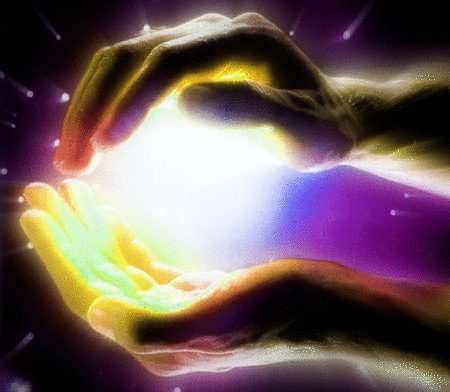 ---
---
Who is Anthony?
Latchkey kid from Indianapolis. Anthony Ware and his two younger brothers were raised by his dad. First gig...cleaning toilets for his dad's janitorial business. Anthony jumped from the corporate ladder to launch startups.
He ignored his scarcity mentality until it broke him in November 2010, he had to live in a car in New Orleans after his third startup failed. Two months later, thanks to mentors and yoga teacher training, Anthony was a phoenix.
Eight years later, Anthony's business, AWare Catalysts, helps underestimated startup founders use their mental wealth and company culture to leapfrog business norms, and create new generational wealth.